Outer Island Interns 2015
Interns are hired each summer to staff Outer Island and to assist visiting groups with educational programming during their visit to the island. The interns also conduct research activities, including water quality monitoring, and participate in maintenance activities on the island facilities. Below are brief bios for the Summer 2015 Outer Island Interns: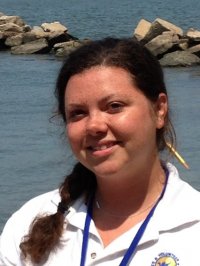 Hollie Brandstatter is currently a graduate student at Southern CT State University working toward her M.S. in Environmental Education. She has worked in Dr. Vincent Breslin's lab doing various marine research, including water quality and metal contamination in sediment. After her duties at Outer Island she worked on other wildlife refuge sites in Norwalk, CT doing habitat remediation.

Email: hbrandst@gmail.com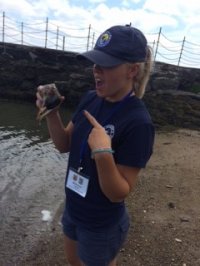 Rebecca Caravello is a senior at Central CT State University. She is majoring in elementary education with a focus in biology. She has always had a passion for marine life and the environment, and before her time at Outer Island she was working with Dr. Jeremiah Jarrett on various marine invertebrate studies.

Email: beccacaravello@yahoo.com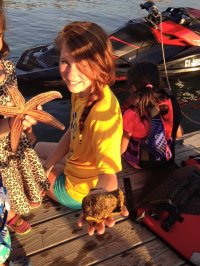 Trisha Quinn is a senior at Central CT State University majoring in biology. Trisha always has a strong interest in marine life and also worked in Dr. Jarrett's lab at CCSU. After completing her Island Keeper duties at Outer Island, she took some time off from school to work with refugees at a camp in Uganda